Google is constantly updating the services they offer and they finally decided to unroll a messaging option with the Google My Business platform.  They have been testing it since November of 2016 but the feature obviously worked well because Google decided to roll this feature out to all websites within the last couple of weeks.  We are going to show you how to turn this feature on in your dashboard so you can begin messaging people that are finding you in the maps section on the first page.
Why Use The New Google My Business Messaging Feature?
Simple.  To communicate with even more of your prospects and customers.  People, especially millennials, don't use the phone feature on their phones like people used to so that means messaging and texting is such a common way of communicating nowadays that you almost have to offer that to your potential customers in order to talk to more of them.
The whole point of having a website is to convert visitors into leads, prospects, and eventually customers or clients.  The fact is, 9 out of 10 people that come to your site (obviously this number is different on every site but you get the point) leave without doing anything.  With Google making communicating with your audience even more convenient, you will naturally get more people reaching out for help.  You can even begin messaging with people before they reach your site since Google My Business is displayed in the "snack pack" of the serps.  In normal talk that means in the maps section on the first page of Google.
You will have to connect this messaging feature to a mobile device within your company so if you don't want people being able to message your device through Google, then you may not want to turn this feature on.
How Can You Turn On Google's Messaging Service?
If you do not want to use your mobile device to message back and forth with your potential customers, Google has connected this new messaging service to their app, Allo, so you can download that as an alternative to using your cell phone.  You can download Allo for your Android phone or your iPhone for free.  All of the messaging will be handled through your phone or the app so you aren't having to give your cell phone number out to business contacts that you don't want to communicate with on a personal level since Google is the third party between their device and yours.
The rest of the tutorial will be handled through the video below so make sure you watch that so you can see how to get started with this service.  You can always go to our contact page if you would like one of our White Noise Digital SEO experts to implement the Google messaging service for you.  Just let us know what you need help with when you send your message in and someone will reach out to assist.
How The Chat Messaging Looks On A Mobile Device
This screenshot is from an iPhone so an Android phone probably looks almost exactly the same.  This was pulled up in the internet browser and not inside of Google Maps so it may look different inside of the app.  Notice how convenient Google makes it for your customers to get in touch with you.  Yes, this is a feature that most millennials will immediately resonate with so if your target market consists of millennials, make sure you turn this feature on today.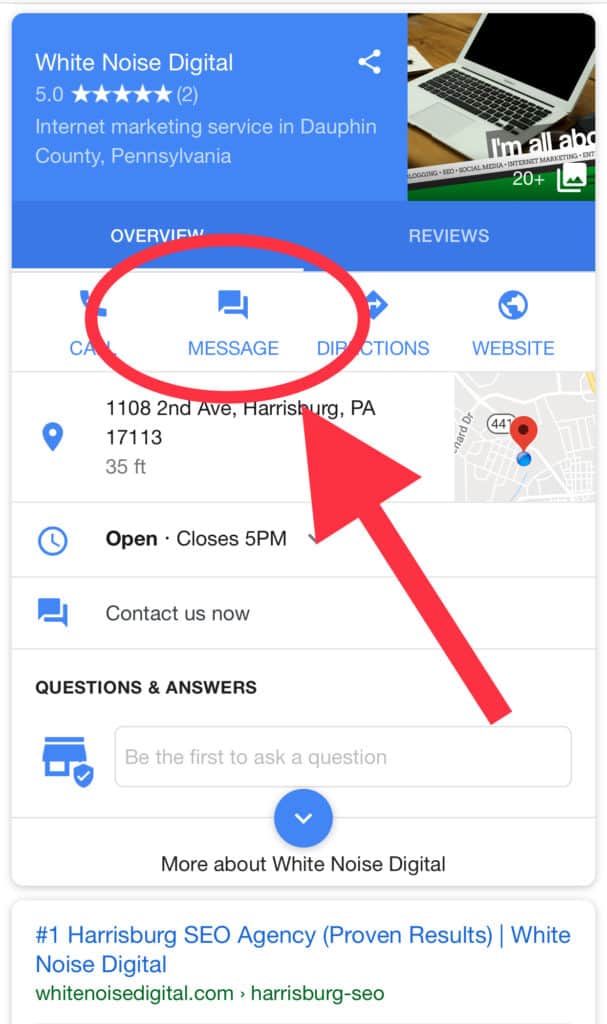 Final Google Messaging Thoughts
Make sure you turn this feature on to test out your audience.  The more activity you get in Google My Business and Google Maps, the more likely Google is going to show your listing to more people searching for keywords in your local area.
Google is all about providing the best experience for their users, so the more often you utilize features Google gives you, the more likely they are going to give you "Google Love" and show your website to their users.
This is not black magic.  This is just one simple feature that you should try out.  Make sure you share this article with your friends and make sure you comment below to let us know if you got some value from this post.
P.S. If you want to learn how to rank your website in the Google Maps section, click here for your complimentary training.